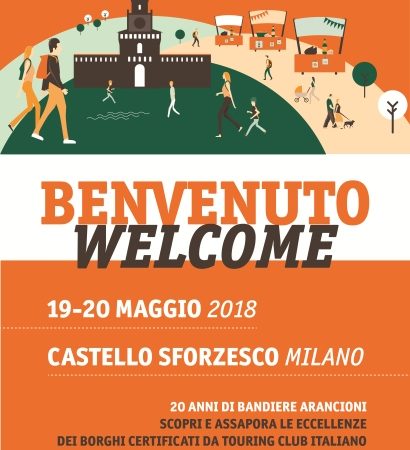 APC SPONSORS "EXPLORING BANDIERE ARANCIONI 2018"
APC will be the main sponsor at the third edition of the event "Exploring Bandiere Arancioni", a special showcase where all Italian villages "certified" by the Italian Touring Club for their touristic and environmental qualities become ambassadors of the peculiar beauties of their territories, by displaying local food and wine produce, pieces of typical craftmanship and traditions, as well as sustainable and innovative territory management solutions. This year's edition is quite special as Bandiere Arancioni (orange flags – the Italian Touring Club initiative certifying the most welcoming and sustainable Italian villages) is celebrating its 20th birthday.
Next May 19th-20th, the wonderful context of Castello Sforzesco in Milan will feature a busy schedule of events focused on food and wine, in a new version that rises awareness on sustainable nutrition, with short distribution chain and possibly linked to the territory: it is not a case that 2018 has been declared Year of Food by the Italian Ministry of Cultural Heritage and Activities and Tourism. Hence, you will be able to get to know, taste and savour the several specialties of Italian villages, real pivots of the "Made in Italy".
For info: www.bandierearancioni.it.
The event is patronised by Regione Lombardia Authority and Comune di Milano.
Sponsored by APC and Chateau d'Ax.