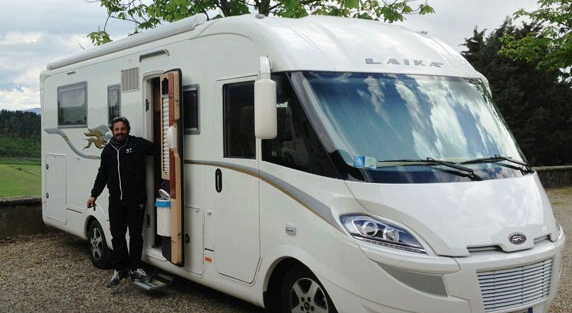 TALKING OF … – ENRICO BRIGNANO, A STAR IN A MOTORHOME
Passion for motorhomes is also for VIPs. It is not news that more and more celebrities are resorting to our favourite vehicle to travel with their families or their entourage, sometimes made up of many people, and therefore in need of bigger spaces. Will Smith, Ashton Kutcher, Sharon Stone, Sean Penn and many more are only some of the big names of the international jet set showing their love for Tourism in Freedom by purchasing a motorhome.
Of course, Italy is no less: one for all is the Roman actor and comedian Enrico Brignano, regularly attending the Salone del Camper as a guest in the last years. Enrico has always been keep on Tourism in Freedom and chooses his Laika motorhome to go on holiday with his family.